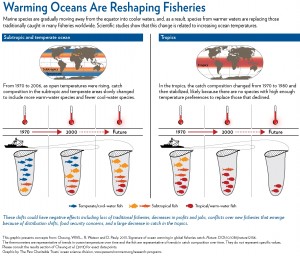 A new paper from the Sea Around Us Project published in the journal Nature reveals that warmer ocean temperatures are driving marine species towards cooler, deeper waters, and this in turn, has affected global fisheries catches.
William Cheung, Reg Watson and Daniel Pauly used temperature preferences of fish and other marine species as a sort of "thermometer" to assess effects of climate change on the world's oceans between 1970 and 2006. They found that global fisheries catches were increasingly dominated by warm-water species.
Click on the image to see how the catch composition of global fisheries has changed in different parts of the world.


To find out more about the research you can access the following resources:
Comment piece in Nature News & Views
Press release
Article published in Nature