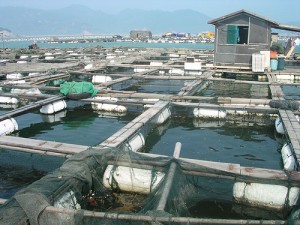 The new Global Mariculture Database (GMD), released by the Sea Around Us Project, offers detailed information on the where and what of mariculture around the world since 1950. By mapping the production of marine aquaculture at smaller scales than the usual national scale and by digging deeper into the species being farmed, the GMD provides room for new insights into marine aquaculture.  And all of this information is now available online for anyone to browse on the Sea Around Us Project website!
The GMD confirms reports by the Food and Agriculture Organization of the UN (FAO) that the amount of seafood produced by marine aquaculture has tripled since 1950 – a massive increase. During this time, there has also been a shift in the type of seafood produced globally, with a larger percentage of predatory species, such as salmon and tuna, farmed around the world today compared to 1950. In the past, the relative production of species lower on the food chain, like mussels and oysters, was higher. This phenomenon has been described as "farming up the food web" a term derived from the concept of fishing down marine food webs.
In keeping with the Sea Around Us Project's goal of improving public access to global fisheries and aquaculture information, this Global Mariculture Database (GMD) is freely available online at www.seaaroundus.org.
To find out more about the GMD and how it was created, you can read the paper recently published in the journal Marine Policy:
Campbell B and Pauly D (2012) Mariculture: a global analysis of production trends since 1950. Marine Policy 39: 94-100.