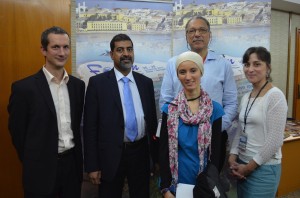 This week, the Sea Around Us Project's Principal Investigator, Daniel Pauly, and one of our PhD students, Dyhia Belhabib, attended the Regional Marine and Coastal Forum held in Dakar, Senegal, where representatives from eight West African countries gathered to discuss the status of fisheries in the region and their future. Their goal was to engage the countries in tackling unreported fishing.
By working with researchers at the Sea Around Us Project to assess their fisheries from 1950 to 2010, these countries have identified the extent of unreported fishing in their waters – which is often as much as double what is officially reported.
"Fishing operations in West Africa have been catching much more than anyone previously realised and reported," says Dyhia Belhabib. "The research we are conducting in partnership with West African countries gives them the first complete historical picture of their fisheries."
In response, some countries in the region have started to take steps to address the gaps and improve fisheries management. In Senegal, the government has developed a fisheries commission and signed an agreement to improve the current reporting and management of its fisheries.
"This joint research is shedding new light on the true extent of past fishing in West Africa," says Daniel Pauly. "Our hope is that these countries will now adopt the results and use them to contribute to better fisheries management in the future."
You can read the complete press release in English and French here.