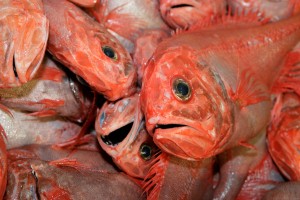 A team of scientists from around the world, including several members of the Sea Around Us Project, is recommending that most of the deep sea be closed to fishing. In an extensive review paper published in the journal Marine Policy, a team of ecologists, fisheries biologists, economists, and mathematicians make the case that high seas fisheries should be shut down.
Fish from the deep sea, like the Orange roughy shown here (photo credit: Claire Nouvian), make up less than 1% of seafood in the market. But fisheries, especially trawl fisheries, cause a lot of damage to the species themselves as well as the seafloor and animals that live on it, like deep-sea coral, the authors of the paper argue. In addition, high seas trawlers receive an estimated $162 million each year in government handouts, which amounts to 25% the value of the fleet's catch, according to Rashid Sumaila, an author on the paper and a fisheries economist at UBC.
The study comes just before the United Nations deliberates on deep-sea fisheries on the high seas. In 2006, a proposed UN resolution to ban bottom trawling in the high seas failed due to opposition led by Iceland and Russia.
Read the full press release here, the full study here, and some media coverage in The Washington Post.
Reference: Elliott A. Norse, Sandra Brooke, William W.L. Cheung, Malcolm R. Clark, Ivar Ekeland, Rainer Froese, Kristina M. Gjerde, Richard L. Haedrich, Selina S. Heppell, Telmo Morato, Lance E. Morgan, Daniel Pauly, Rashid Sumaila, Reg Watson. Sustainability of deep-sea fisheries. Marine Policy, 2012; 36 (2): 307.