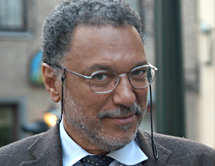 The Sea Around Us' principal investigator Daniel Pauly is a winner of the prestigious Peter Benchley Ocean Award for "Excellence in Science."
Pauly accepted the award on May 14 at the eighth annual awards ceremony at the Carnegie Institution of Science in Washington D.C.
The awards team noted Pauly has become a world leader in identifying overfishing as a threat to marine ecosystems and global food security — and that he's an outspoken advocate for taking corrective action.
"Since I am a marine biologist and fisheries scientist, this means that throughout my career, I have tried to create concepts, models, software and databases that enable colleagues to do their work more effectively," Pauly said in his acceptance speech.
The Peter Benchley Ocean Awards acknowledge outstanding achievement, and the only major awards program dedicated to recognizing excellence in marine conservation solutions across a wide range of sectors.
Other winners this year included The Economist, Secretary of State John Kerry, and Prince Albert II of Monaco.