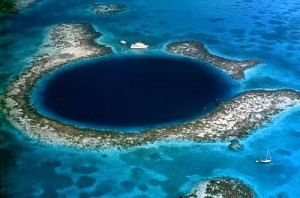 More than 20 top marine ecologists gathered last week in Belize City to review the status of the country's marine biodiversity and the potential impacts an oil spill could have on local marine ecology. After the meeting, the participants unanimously agreed that the Belize government should prohibit offshore oil drillings in Belize's waters, a referendum that will be voted on in late 2011.
Scientists from the University of British Columbia, Boston University, the American Museum of Natural History, the Smithsonian Institution, and Belize itself discussed Belize's marine assets in a symposium titled: Too Precious for Oil: the Marine Biodiversity of Belize.
Among the scientists' chief concerns were how an oil spill would affect the region's biodiversity and economic gains from marine resources and tourism. Belize boasts bottlenose dolphins, the largest number of Antillean manatees in the world, a breeding ground for at least 7 different species of sharks and rays, hundreds of different types of sponges, and fisheries for groupers, snappers, grunts, and other reef fishes. In 1996, UNESCO declared the Belize Barrier Reef Reserve System a World Heritage Site.
Scientists are also worried that seismic activity makes drilling especially risky. An earthquake in Belize in 2009 had severe impacts on coral reefs. A spill could result in lost revenues to Belize's fishing and marine tourism industries.
The event was organized by Oceana Belize and the Sea Around Us project, with funding from the Oak Foundation.
ended with the signing of a letter from all the scientists involved urging the government to consider the incredibly rich and diverse marine environment that exists in Belize, the many benefits (tourism and fisheries) this provides and the risk that oil drilling posses to this incredible natural asset.
The conference drew in around 100 people, but there was a media blitz each day and appearances on national radio, television, news and talk shows. Daniel Pauly made daily media appearances and met with the opposition party and other government officials. He and Sarah Harper appeared on two local talk shows. Andres Cisneros aired on Estereo Amour, Belize's Spanish radio station.
Check back soon for more progress on this initiative.